Sarah Obama, the grandmother of former US President Barack Obama's family, passed away on March 29, 2021, at the age of 99. She was fondly known as Mama Sarah, and was known for her work in promoting education for girls and orphans in her rural Kogelo hamlet in Kenya. She died at the Jaramogi Oginga Odinga Teaching and Referral Hospital in Kisumu, Kenya, where she had been receiving treatment for a week.
Sarah Obama was not a victim of Covid-19 but had been battling normal illnesses. Her death was mourned by many, including President Obama, who expressed his sympathy to his family and remembered her as a strong and remarkable woman who will be missed. Kenyan President Uhuru Kenyatta also paid tribute to her as a matriarch and philanthropist who empowered orphans and encouraged education.
Sarah Obama raised Barack Obama's father, Barack Obama Sr., and was a philanthropist who assisted orphans by providing them with school materials, uniforms, basic medical requirements, and school fees through the Mama Sara Obama Foundation.
She believed in the power of education to make individuals self-sufficient, particularly girls, who often face obstacles in pursuing education. She was awarded the inaugural Women's Entrepreneurship Day Education Pioneer Award by the United Nations in 2014 for her work in education.
President Obama had a special bond with Mama Sarah and referred to her as "Granny" in his biography, "Dreams from My Father." He met her during a trip to his father's hometown in 1988, and their awkwardness while communicating became a loving bond. She attended his first inauguration as President in 2009.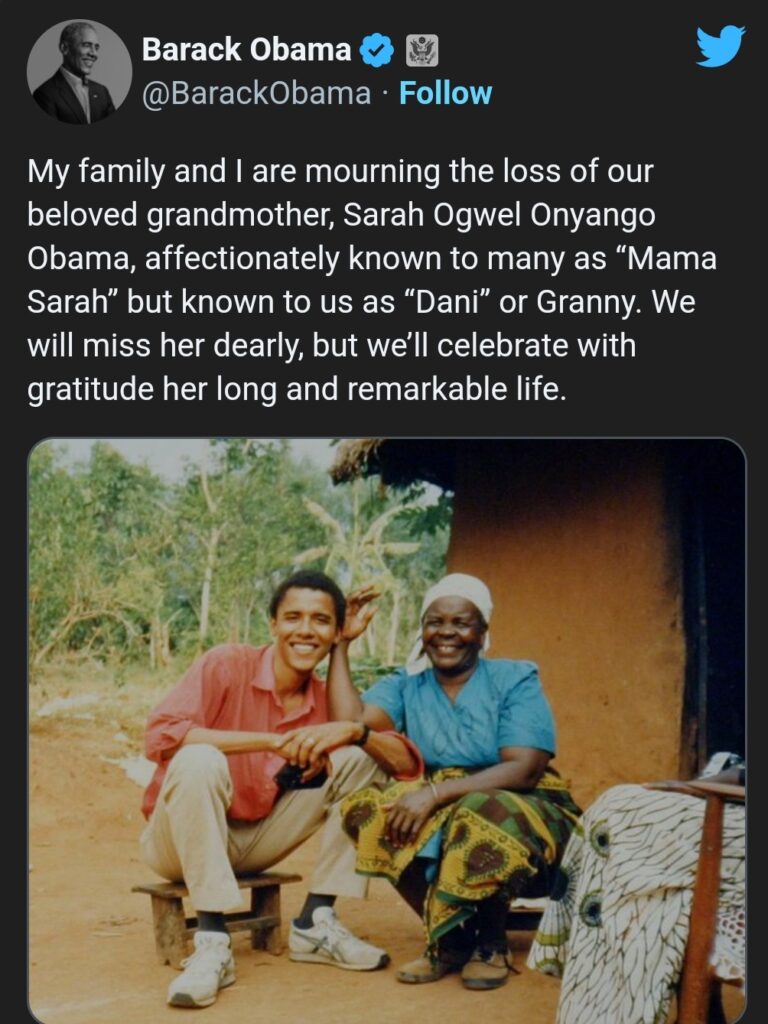 Sarah Obama's legacy will be remembered for her commitment to education and her philanthropy. She was an icon of family values and a matriarch who held the Obama family together. Her work in promoting education will continue to inspire future generations.