On the fateful morning of July 10, 2022, tragedy struck in Hobbs, New Mexico, when Mary Johnson, a wife and mother from Oklahoma, committed a horrific act that would forever change her family's life. Mary was sentenced to 20 years in a New Mexico prison for her actions. The story begins with a distressed call to 911 from Bruce Johnson Sr., Mary's husband.
He reported a horrifying scene in their family home: his 11-year-old son, Bruce Johnson Jr., was screaming in agony, having been fatally stabbed. The early morning call marked the beginning of a nightmare for the Johnson family. Both Mary and Bruce Jr. were rushed to the hospital for medical attention. While Mary survived the ordeal, tragically, Bruce Jr. succumbed to his stab wounds shortly after arriving at the hospital.
Before his untimely death, the young boy identified his own mother as his attacker, casting a chilling shadow over the case. Mary Johnson's plea initially revolved around 'insanity and incapacity to form specific intent.' However, she later changed her stance, entering into a plea agreement and pleading guilty to second-degree murder. This shift led to her receiving a 15-year prison sentence for the second-degree murder conviction, along with an additional five years for 'aggravated circumstances.' Additionally, she was fined $12,500 and would face two years of parole upon her eventual release, with partial credit for time served.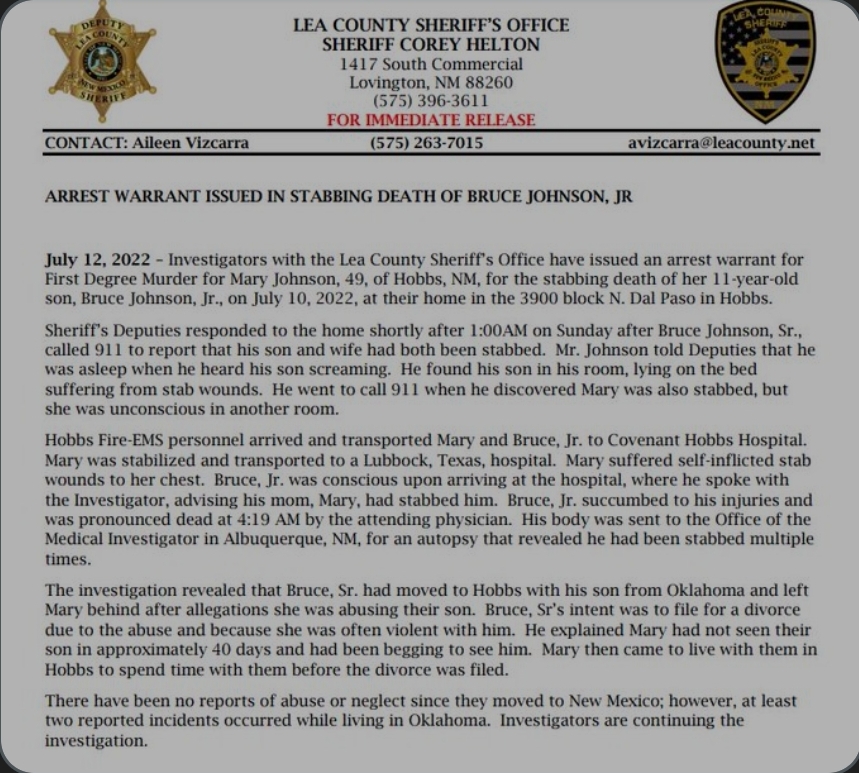 The motive behind this heinous act emerged as the investigation unfolded. It was revealed that Bruce Johnson Sr. and Bruce Jr. had relocated from Oklahoma to New Mexico in an attempt to escape Mary's alleged abuse and violence. The father had intended to file for divorce due to the abusive relationship but allowed Mary to see their son after her persistent pleas. This decision proved to be tragic, as Mary took this opportunity to carry out the horrifying attack on that dreadful night.
In her chilling statement, Mary expressed her twisted motive: "If I can't have him, no one can." She had not only repeatedly stabbed her son while he lay in his bed but also inflicted multiple chest wounds on herself in the kitchen. It was a gruesome scene that no father should ever have to wake up to in the middle of the night. While no abuse incidents were reported in Hobbs, New Mexico, there had been at least two previous incidents in Oklahoma, shedding light on a history of violence within the family.
Although the sentencing can never bring back Bruce Jr., it marks the beginning of a painful healing process for Bruce Sr. as he grapples with the loss of his beloved son and the devastating actions of his wife, Mary Johnson.