The sudden death of Stephen "tWitch" Boss has left Hollywood in shock. The former Ellen DeGeneres Show DJ and So You Think You Can Dance judge was only 40 years old when he committed suicide. Allison Holker Boss, his wife, confirmed the news and shared a heartfelt message about her husband's legacy. Stephen was known for bringing light and positivity wherever he went and valued his family, friends, and community above all else. He was a rock for his family, the best husband and father, and an inspiration to his followers.

Celebrities from all around Hollywood expressed their grief, with Nigel Lythgoe, creator and judge of So You Think You Can Dance, saying he was "heartbroken and grieved" and at a loss to understand how someone as adored and inspirational as Stephen could feel so hopeless that he felt he had to take his own life. Tiffany Maher, another SYTYCD graduate, said her heart was destroyed, and Stephen will be remembered and missed forever.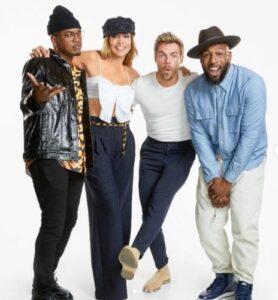 Condolences poured in on social media, with Ellen DeGeneres sharing a beautiful message and a photo of the couple hugging. Michelle Obama, former First Lady of the United States, posted a photo of Boss's family, calling him a dynamic person who ensured that everyone in his presence felt his compassion and happiness. Jennifer Lopez shared several photos on Instagram with Boss, whom she worked with on World of Dance, describing him as having a beautiful and shining soul.

Stephen "tWitch" Boss was known for his positivity, kindness, and inspiration to many. His sudden death is a reminder of the seriousness of mental illness, and it is essential to recognize the signs and offer help to loved ones who may be struggling. His legacy will continue to inspire and bring light to many, and he will be deeply missed by his family, friends, and fans.