A woman from New Jersey is being sued by her ex-husband for allegedly writing derogatory words such as "bum" and "loser" on the weekly alimony checks she sends him. Francis J. Wagner Jr. has filed a lawsuit against his ex-wife, Diane Wagner, for causing emotional and physical harm due to the notes she wrote on the $186 alimony checks she sends him every week.
Diane revealed that she had suffered from her ex-husband's drunken episodes during their ten-year marriage, and this led her to file for a divorce. As she could not afford a divorce trial and her ex-husband was collecting Social Security/Disability, she agreed to pay him $744 a month for six years as spousal support.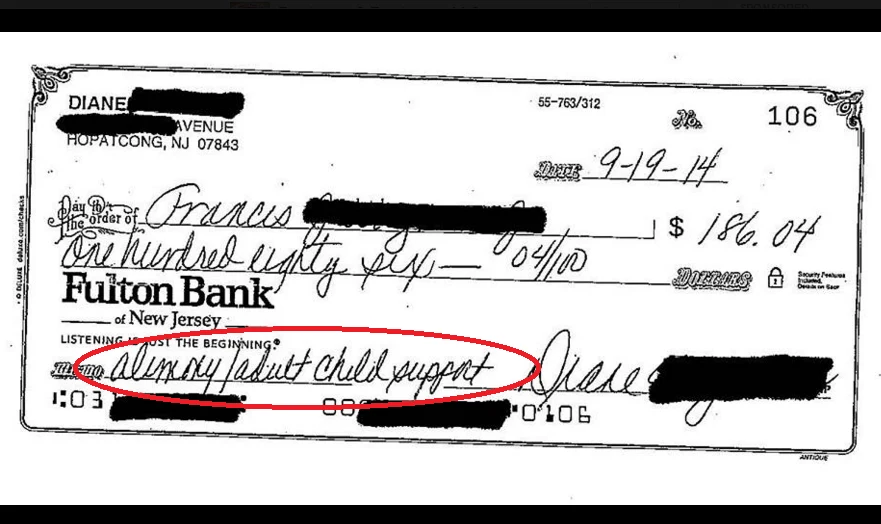 Diane said that she can barely afford the support checks as she is currently undergoing treatment for cancer, but she was denied her request for a reduction. She had been sending the alimony payments regularly when a friend told her about a post on a law firm's Facebook page which featured one of her checks with the caption "Alimony for the man!".
Diane subsequently received a cease-and-desist letter from the law firm, which claimed that her writings were causing her ex-husband severe emotional distress and led to him having sustained heart attacks in recent weeks. According to the lawsuit, Diane then started writing the acronym "FOAD" on the checks, which reportedly means "[expletive] off and die".
Diane argues that she can write anything she wants on the memo line because it's a note to herself, and that she was the victim in the marriage. She says that her ex-husband has received the alimony payments religiously and that she pays him regularly. Diane's ex-husband, on the other hand, claims that the notes are causing him significant emotional distress.
The lawsuit is ongoing, and it remains to be seen what the outcome will be.