Actress Candace Cameron Bure found herself in the midst of controversy when fans accused her of lying about her fast food consumption. Bure, known for her openness about her eating habits and disorders, had claimed that she hadn't eaten fast food in the past 20 years, except for In-N-Out. She expressed curiosity about what burgers and fries from other fast food chains tasted like but asserted that she had never tried them, including Taco Bell.
Fans, however, took it upon themselves to investigate Bure's claim and discovered an old photo of her holding a Chick-Fil-A cup with one of her sons. The photo was dated back to 2012 and had a caption indicating their love for chicken. This revelation prompted Bure to address the accusations.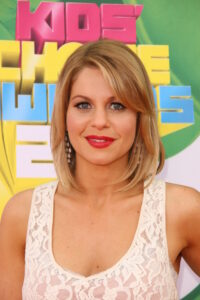 Through her spokesperson, Bure clarified that she had indeed visited Chick-Fil-A but only ordered an iced tea for herself while driving her son to get food. Her spokesperson dismissed the allegations of Bure lying about her fast food consumption as ridiculous, emphasizing that Bure was merely holding the cup in the photo.
Bure has been open about her struggles with eating disorders, discussing them in her book Reshaping It All from 2010. In a 2016 interview, she revealed that she had turned to food for comfort and had developed an unhealthy relationship with it, leading to bulimia. Her struggles were not solely focused on body image but also stemmed from trying to find comfort and fill voids within herself.
As a mother of three, Bure emphasizes the importance of healthy eating and fitness to her children. Despite the controversy surrounding her claim, Bure stands by her statement that she has abstained from fast food for the past two decades. The debate over Bure's fast food consumption raises questions about the authenticity of public figures' statements and the scrutiny they face from their fans.