A TikToker sparked a debate online after filming two dogs fighting in a Home Depot and documenting what it caused to the shoppers. 
The video quickly went viral and reached more than 6 million views, and left people debating whether dogs should be allowed in stores or not.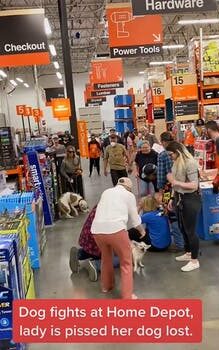 @wtfisthis211 uploaded the video where people were trying to pull apart two dogs, one being much larger than the other.
The women who owned the small dog, ran to grab their belongings and take care of the traumatized dog. 
All the shoppers were shocked by what happened, while one woman who is the dog's owner is crying, yelling, and is visibly distraught. 
She also asked for the police to be called and for the dog's name. People were also debating if this incident or other similar incidents can be avoidable.
Many others were very clear to say that dogs shouldn't be allowed in stores at all.
One of the commenters asked, 'Why are these dogs in the store in the first place?'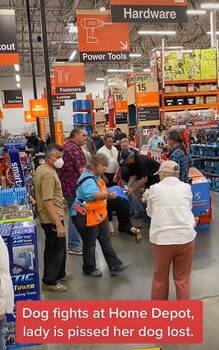 Another user replied. 'I don't blame them, but the people who do not keep them safe.'
Another one said. 'Dogs shouldn't be allowed into any kind of store, only in pet shops. I had bad experiences in regular stores being caught between two dogs.'
Other users joked about the woman who was asking for the dog's name.
What do you think about that? Should dogs be allowed in regular stores? How can these incidents be avoided without forbidding them from entering the store? Share your thoughts in the comments on Facebook.