On the first anniversary of Charlie Watts' death, Mick Jagger, the lead singer of the Rolling Stones, paid tribute to the late drummer through a video uploaded across social media platforms. The video featured a slideshow of photographs of Watts and was soundtracked by the band's 1974 classic "Until the Next Goodbye" and a voiceover message from Jagger.
In the video, Jagger remembered Watts for his tremendous sense of humor and spoke of the times they spent outside the band, where they bonded over sports and hobbies other than music. Jagger expressed his grief at Watts' death and said that he missed him very much.
Watts died on August 24, 2021, at the age of 80, after an unidentified illness. Steve Jordan filled in as a drummer on both the No Filter Tour and the Sixtyth Anniversary Tour of the Rolling Stones, which concluded earlier this summer.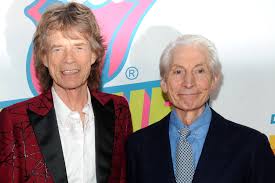 The remaining members of the band have spoken freely about their grief at Watts' death. Keith Richards told CBS Sunday Morning in March 2021 that Watts' death had come as a "surprise" to the band. However, the Stones revealed to the Los Angeles Times in October 2021 that they'd recorded new songs with Watts on drums before his death.
The band also posted a video of Don McAulay, Watts' veteran drum tech, on Twitter. McAulay placed Watts' drum key in the exact spot he used to before each show, as a mark of respect for the late drummer. Jagger raised a glass to Watts on stage before their first gig without him in September 2021.
In a Rolling Stone interview, Jagger said that what Watts provided was a lovely sense of swing and swerve that most bands dream they could have. Richards added that God bless Watts' soul and that the world hasn't heard the last of him. Even though the band has lost a valued member, Watts' music lives on, and his contributions to the Rolling Stones will always be remembered.