Kylie Jenner has been no stranger to criticism throughout her life in the spotlight. Recently, she addressed rumors surrounding her alleged plastic surgery, emphasizing her confidence and self-acceptance. However, Kylie faced a new wave of fan scrutiny after a Photoshop fail was spotted in one of her Instagram posts, leading to an outpouring of opinions and reactions.
At the age of seventeen, Kylie famously admitted to getting lip fillers, which initially sparked rumors about her plastic surgery. However, she clarified that her insecurity about thin lips led her to make that decision. Over the years, she maintained that her iconic pout was achieved through makeup and her own lip kits. Kylie has always considered herself a confident individual, with her love for full lips being an enhancement rather than a reflection of insecurity.
The Photoshop Fail Backlash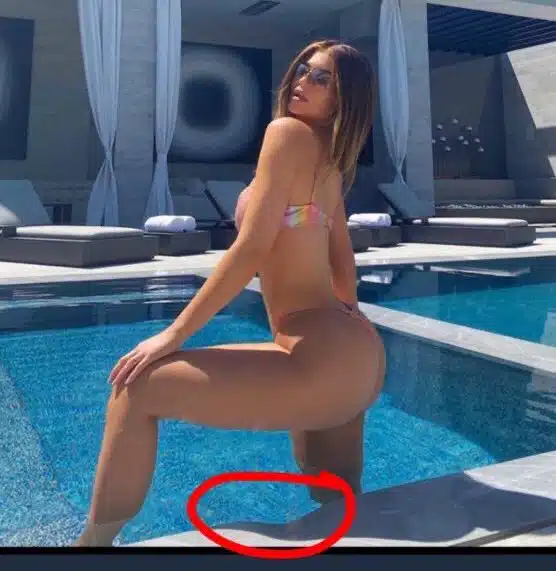 Kylie Jenner also discussed how motherhood has changed her perspective on self-image. With two children, Stormi and Aire, she sees her own features reflected in them and has grown to love herself more as a result. This shift in mindset has led her to embrace a more natural and minimalist approach to beauty, moving away from the glamorous aesthetic of the past decade.
In a recent Instagram post featuring Kylie in a stunning poolside bikini, fans quickly noticed noticeable Photoshop errors. The image was swiftly deleted and later reposted in a cropped version. Social media platforms, particularly Twitter, became abuzz with fans discussing the mishap and expressing their opinions. Some fans criticized Kylie for using Photoshop and drew attention to the deleted post.
Kylie Jenner's journey of self-acceptance and embracing natural beauty has been a topic of interest for her fans. While she has been open about her experiences with cosmetic enhancements, she also emphasizes the importance of confidence and self-love. However, the recent Photoshop fail in one of her Instagram posts has shifted the focus from her personal growth to fan reactions and criticism. As Kylie continues to navigate life in the public eye, her experiences serve as a reminder of the complexities and scrutiny faced by those in the spotlight.