On September 23, 2022, the entertainment world was saddened by the untimely death of actor Robert Cormier, known for his role as Finn in the popular TV show "Heartland." At just 33 years old, his passing shocked and deeply affected his fans, colleagues, and loved ones.
Robert was not only an accomplished actor but also a talented athlete, and he had a strong desire to make a positive impact on people's lives. According to his obituary, he was always striving for more and had a deep admiration for his father. Family movie nights were a cherished tradition for him, reflecting the close bond he had with his loved ones.
The 16th season of "Heartland," set to premiere in October, was supposed to feature Robert Cormier's character, Finn. The show, set in Alberta, Canada, revolved around the ups and downs of a family's life and had garnered a dedicated fan following. The cast of "Heartland" expressed their sorrow and condolences on Instagram, recognizing Robert's immense talent and the void his passing had left behind.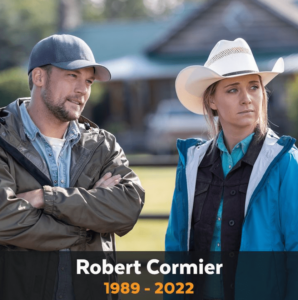 The circumstances surrounding Robert's death were revealed by his sister Stephanie, who stated that he had suffered fatal injuries from a fall. He breathed his last in an Ontario hospital, but the official cause of his death was not disclosed to the public.
Robert Cormier left behind a grieving family, including his parents, Robert and Lisa, and his sisters, Brittany, Krystal, and Stephanie. His grandmother Joanne, along with aunts, uncles, and cousins, were also among the survivors mourning his loss. The family was further devastated by the loss of his grandfather Bobby.
As news of his passing spread, fans and colleagues remembered him as a bright and talented soul taken too soon. The legacy of Robert Cormier's work in the entertainment industry and his dedication to his craft will undoubtedly be remembered and cherished by all who had the pleasure of witnessing his talent.
The entertainment world mourned the loss of this young actor who had so much potential and promise yet to fulfill. His absence would undoubtedly be felt by everyone whose lives he touched, both on and off the screen. May his memory live on in the hearts of those who loved and admired him.