Rebecca Boening, a resident of Texas, recently shared a Facebook post that quickly went viral, recounting a remarkable encounter she had with a Burger King employee. As she was driving on I-40 one Wednesday afternoon, Rebecca's blood sugar suddenly dropped to a dangerous level. Luckily, there was a Burger King restaurant at the upcoming exit, so she pulled into the drive-thru to order food.
However, due to her low blood sugar, Rebecca found it difficult to articulate her order and mentioned to the voice on the speaker that she was diabetic and urgently needed food. To her surprise, the Burger King employee, Tina Hardy, who was manning the drive-thru, immediately left her post and rushed towards Rebecca's car. Tina squeezed between the front of the car and the building, delivering a small serving of ice cream.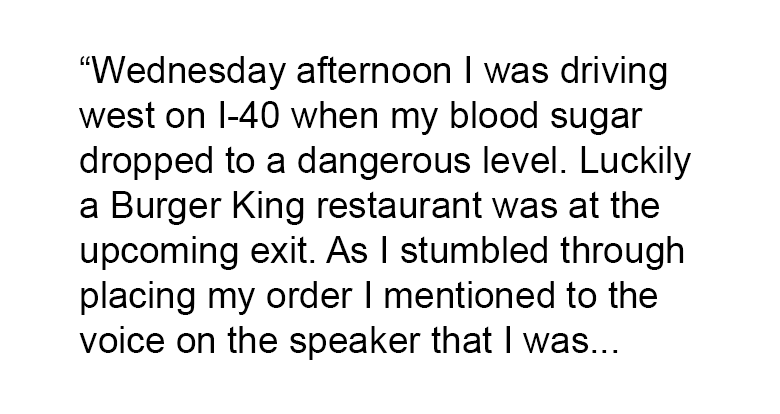 Tina revealed that her own husband was diabetic and recognized the signs of low blood sugar in Rebecca. After paying for her food, Rebecca pulled up to Tina's window, where she was handed her order. Tina instructed her to park across the driveway so she could keep an eye on her until she felt better. After eating, Rebecca waited for a lull in business so she could return to Tina's window, take a photo together, and speak to Tina's supervisor, expressing her gratitude for Tina's extraordinary act of kindness.
Rebecca urged others to share her story, hoping that Tina Hardy would receive the recognition she deserved from both the public and the higher-ups at Burger King. In a world where news often highlights negativity, this heartwarming gesture between two individuals stands as a shining example of kindness and compassion.