Jo Ann Ussery's extraordinary journey began in 1993 when her home in Benoit, Mississippi was destroyed and she found herself with her two kids and little money. Faced with the challenge of finding a suitable dwelling, her brother-in-law, an air traffic controller, suggested an unconventional solution: living in a decommissioned Boeing 727 airplane.
With enthusiasm, Ussery explored the idea, and upon encountering a Boeing 727 about to be dismantled, she fell in love and purchased it for a mere $2,000, including shipping. This unique dwelling was christened "Little Trump," drawing inspiration from Donald Trump's private Boeing 727. Ussery embarked on a transformative journey, investing less than $30,000 in renovations.
PShe parked the plane by a lake on her property, securing the tail with concrete, and meticulously redesigned the interior of the 138-foot-long aircraft. The airplane's interior, spanning 1,500 square feet, underwent significant changes. Ussery upgraded insulation, laid new flooring, and repurposed the airplane lavatory and overhead bins to maximize space.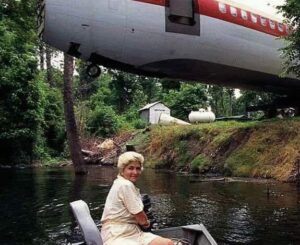 Three bedrooms, a living area, a kitchen, and even a laundry room were added to the airplane's interior. Ussery even turned the cockpit into a master bathroom with a soaking tub, creating an illusion of floating in midair while gazing over the lake. Remarkably, Ussery carried out most of the renovations herself.
Between 1995 and 1999, Ussery and her family called the converted airplane home, experiencing its unique charm and comforts. She eventually decided to share her creation with the world, converting it into a museum. Unfortunately, during a short transportation attempt, the airplane tragically fell off its carriage and was destroyed.
Ussery's innovative and captivating journey showcased her ability to transform unconventional spaces into functional and comfortable living areas. Her Boeing 727 mansion became a testament to creativity and resilience, offering a unique blend of aviation history and modern living. The snapshots of her exceptional creation continue to captivate, reminding us of the ingenuity that can turn an ordinary object into an extraordinary home.