A tragic incident unfolded in Virginia when a 40-year-old caregiver named Kristen D. Graham was arrested and charged with one felony count of child neglect and one misdemeanor count of animal cruelty. The heartbreaking case involved the neglect of an 11-month-old baby named Myrical Wicker and a dog, both under Graham's care. The York-Poquoson Sheriff's Office initiated an investigation into this harrowing event.
The chain of events began when Graham received a phone call around 1:00 a.m. from a friend who needed assistance caring for an elderly person. The friend asked Graham to bring cigarettes, and Graham, obliging, took the 11-month-old child and the dog with her. What was supposed to be a brief errand turned into a nearly seven-hour absence from her Virginia residence.
During her absence, Graham stopped at a 7-Eleven to buy cigarettes and apple juice. She eventually returned home around 8:00 a.m., at which point both the baby and the dog were still alive. However, the tragedy unfolded when Graham left them in her car, rolled up the windows, and went inside her residence to sleep.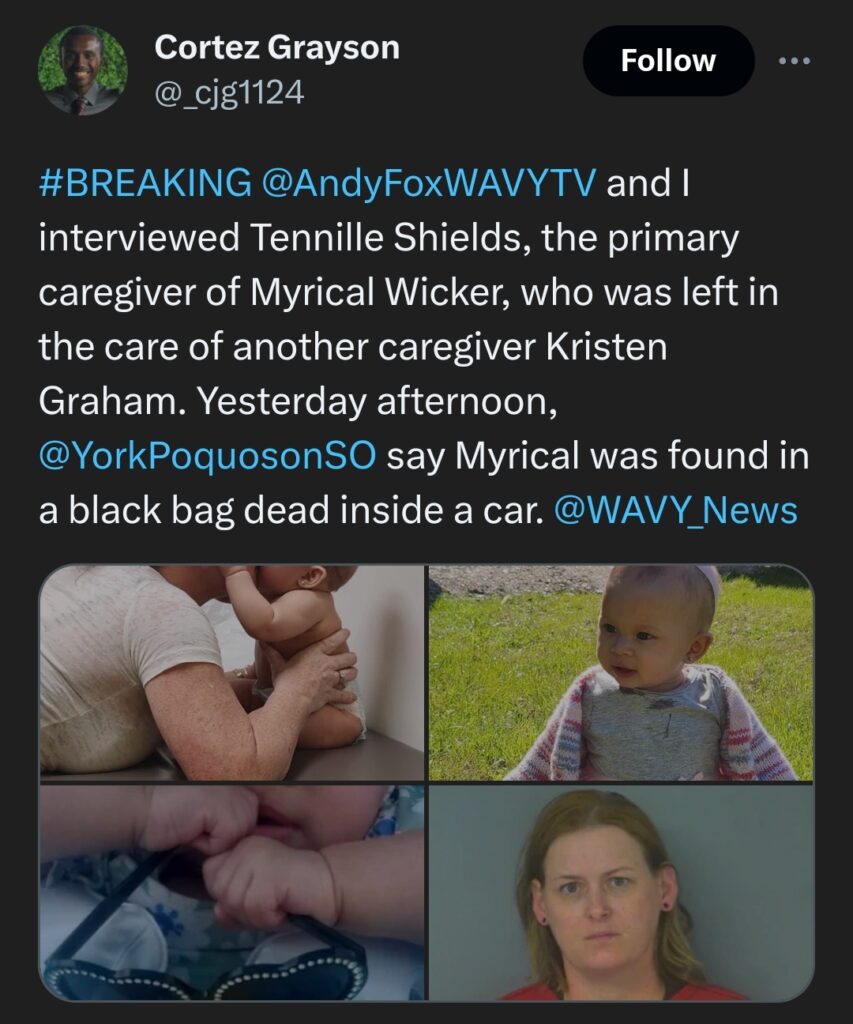 It wasn't until approximately 2:30 p.m. that Graham awoke, prompted by a phone call. It was then that she realized the dire situation and rushed to check on the child. Tragically, it was too late; Myrical Wicker had succumbed to the sweltering heat inside the car, likely earlier in the morning or afternoon.
In a desperate attempt to rectify the situation, Graham handed the lifeless child to an 80-year-old man living in her home, who remains unidentified. He placed Myrical's body in a plastic bag and rushed her to Bon Secours Mary Immaculate Hospital. Upon arriving at the hospital, he informed staff of the deceased 11-month-old child in his vehicle.
Graham was subsequently arrested later that night and is currently detained in the Virginia Peninsula Regional Jail as the investigation continues. The tragic incident left law enforcement officers in shock and disbelief. Sheriff Ron Montgomery expressed the profound impact this event had on him and his officers, emphasizing the importance of cherishing loved ones and holding them close.
In response to the heartbreaking loss of Myrical Wicker, a GoFundMe page was created by Frances Spires, claiming to be the child's grandmother. The page seeks financial assistance to support Myrical's mother, Arianna Wicker, during this unimaginably difficult time. As of September 16, the page had received over $1,000 in donations, reflecting the outpouring of sympathy and support for the grieving family. The tragic story serves as a stark reminder of the importance of vigilance and care for the most vulnerable among us.