A heartwarming family photo of six generations of women has recently made headlines. MaeDell (Taylor) Hawkins, the 98-year-old great-great-great-grandmother, was photographed last month cuddling her newest family member, Zhavia, who joined the family in December.
The photograph captures all women, from the baby to her great-great-great-grandmother, and is a testament to the enduring strength of motherhood and the unbroken chain of women passing on their love, wisdom, and experiences to each subsequent generation.
MaeDell, who will turn 99 in July, has held numerous babies throughout her life, and despite her age, she is cognitively active and intelligent, always ready to provide her expert advice on child care. Her caring touch on her darling granddaughter and the sweet times they share are treasured by her granddaughter, Gracie.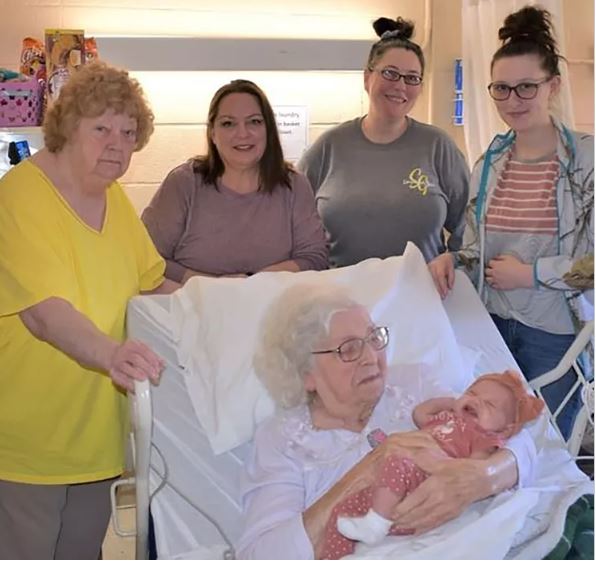 MaeDell's story is a tribute to a long and fruitful life and the joy and wisdom she presents to people around her. Despite her life's challenges, including marrying her first husband at 16 and raising his ten children from his previous marriage, MaeDell never complained and went about her business silently, inspiring her family with her resilience and determination.
Gracie, MaeDell's granddaughter, is overjoyed by the tremendous positive response that followed after she sent a photo of MaeDell and Zhavia to a local meteorologist, along with a description of her grandmother's life. MaeDell's unexpected notoriety serves as a reminder that age is just a number and should never define a person's worth.
MaeDell's family continued to grow in size over time, and she has outlived several spouses and most of her stepchildren. "We have a large and loving family," she says proudly. MaeDell's journey has been of substance and meaning, with countless live events and many loved ones.