Russell Crowe, a beloved and accomplished actor, has faced several challenging years. Despite his success in Hollywood, he recently opened up about a significant loss he experienced. Known for his iconic performances in films like Gladiator and A Beautiful Mind, Crowe has established himself as a prominent figure in the industry.
Tragedy struck on March 30, 2021, when Crowe's father, John Crowe, passed away at the age of 85. John had been residing in Coffs Harbour, New South Wales, Australia, for 25 years. In a heartfelt tribute, Russell Crowe expressed his love and admiration for his late father, acknowledging the impact he had on people worldwide with his sparkling eyes and playful nature.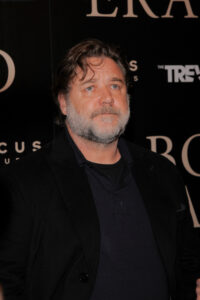 In addition to the loss of his father, Crowe shared another heartbreaking update involving his beloved dog, Louis the Papillon. Crowe had previously posted about Louis wearing a polo shirt, humorously mentioning that the other dogs on the farm might get jealous.
However, tragedy struck again when Louis was struck by a truck and passed away. The actor expressed his grief on social media, revealing that the incident occurred on the second anniversary of his father's passing. Crowe held the puppy in his arms, conveying his love, but unfortunately, Louis died before they could reach the vet.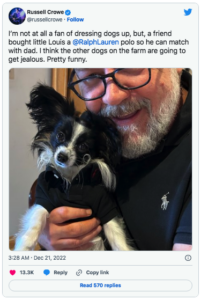 Amid these challenging times, Crowe has chosen to maintain a relatively low profile. While his career has seen great success, he values his privacy. As he navigates these personal struggles, many are sending their thoughts and well wishes to the actor, offering prayers and support during this difficult period.