The owner of Buckhead's OK Café in Georgia, Susan DeRose, has removed a Georgia flag and banner from her restaurant after it sparked controversy for years. DeRose decided to auction the items off and donate the money to the police force, stating that she understands that the flag and banner can be offensive to some people.
Witnesses applauded when the flag was taken down on Friday. For decades, the flag has been a point of contention, with some viewing it as a symbol of civil rights progress, while others consider it a racist sign. Isabel Johnson, a leader of Buckhead for Black Lives and a student at Georgia Tech, said that she was glad to see the flag removed and viewed it as a positive step towards reforming the restaurant to make it more welcoming to all.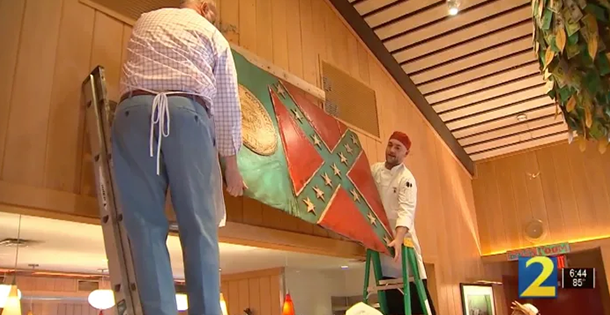 On Sunday, Johnson and others marched past the restaurant and saw a sign and tea party stand in front of the restaurant.
The poster read: "Lives that matter are made with positive purpose," was later removed. While some praised DeRose's decision to take down the flag, others were not satisfied. Former state Sen. Vincent Fort criticized DeRose, stating that he believed it was a calculated attempt to insult black people and their allies.
He argued that more needed to be done to reform how people are treated and that simply taking down the flag and donating the money to the police force was not enough. Johnson agreed that while removing the flag was a good first step, there was still much more to be done to create a more welcoming environment for all.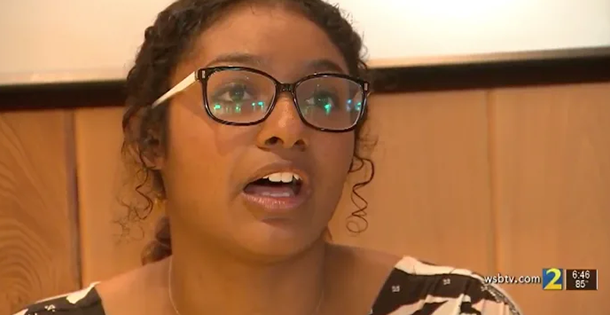 The controversy surrounding the Georgia flag highlights ongoing debates about symbols of the Confederacy and the country's history of racism. While some see such symbols as a tribute to history and heritage, others view them as symbols of hate and oppression. The removal of the Georgia flag from OK Café is just one example of how businesses and communities are grappling with these issues and taking steps toward greater inclusion and equality.