Kristen Nicole is an award-winning news anchor who is known for her contribution throughout the years. She was very surprised after receiving complaints about her dress being called inappropriate.
Do you think it is proper to wear that kind of dress? People who are involved in the industry are accustomed to negative comments about their appearance and everything else. 
anonymity. Things are a little bit different if you are someone like Kristen Nicole.
Viewers complained about her baby bump. Kristen is a mother of one and was expecting another child while she was also working on the Good Day Chicago. 
Viewers commented and complained about her showing the baby bump. In fact, normally you would think that a working mom deserves praise, but some people have always something negative to say.
She posted on Facebook talking about her form-fitting blue dress that was commented on and her intentions.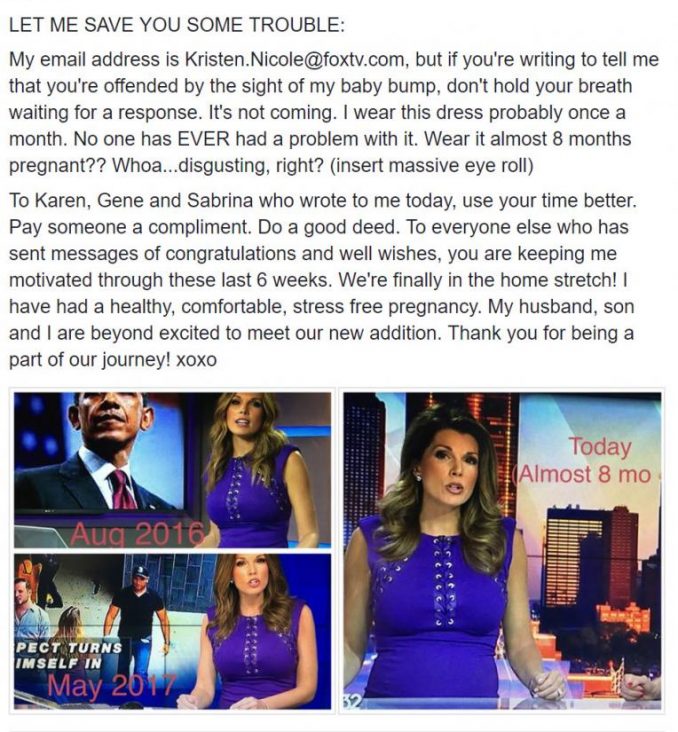 Let me save you some trouble. This is my email address. I wear this dress once a month, and no one has a problem with it. Wear it while you are 8 months pregnant and you are disgusting? To everyone who wrote me today, use your time better, and do something good. While others congratulated me, you are keeping me motivated in these final weeks. We are very excited to meet our new addition. Thanks for being part of our journey! 
Even though there were negative comments, praise from fans came pouring in. She looks great, and she handled this situation in class.