Mayim Bialik, known for her role in the sitcom "Call Me Kat," bid farewell to the show after it was canceled by Fox. The news of the cancellation came on May 5, with the final episode airing on May 4. "Call Me Kat" followed the story of a single woman who opens a cat café after leaving her job as a college professor. Mayim, who served as the lead actress and executive producer, took to Instagram a few days later to pay tribute to the show and its cast.

In her Instagram post on May 8, Mayim expressed the difficulty of saying goodbye and acknowledged the laughter they brought to people during the COVID-19 pandemic. She praised her co-stars Cheyenne Jackson, Swoosie Kurtz, Julian Gant, Kyla Pratt, and the late Leslie Jordan, stating that together they made the impossible possible. Mayim also shared her thoughts on where she believed the characters would end up, envisioning a happily ever after for them.

Fans of the show flooded the comments section with emotional responses to the cancellation. Many expressed their heartbreak and hopes that the show would find a new home on another network.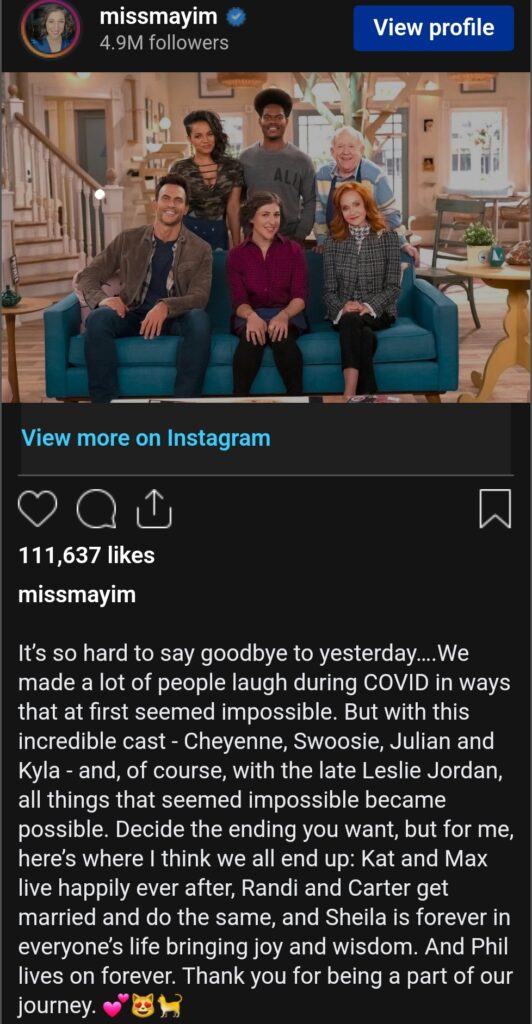 Some fans had just finished watching the finale and were caught off guard by the news. The cancellation of "Call Me Kat" came seven months after the tragic death of cast member Leslie Jordan, who played a significant role in the show.

While the show came to an end, Fox executives commended the achievements of "Call Me Kat" during its time on the air. They expressed gratitude to Warner Bros. Television, That's Wonderful Productions, Sad Clown Productions, BBC Studios, Mayim Bialik, Jim Parsons, and the entire cast and crew for their dedication to the show.

In conclusion, Mayim Bialik said goodbye to "Call Me Kat" after its cancellation, expressing gratitude for the laughter and joy they brought to viewers and sharing her vision for the characters' futures. Fans expressed their sadness and hopes for the show's revival, while Fox acknowledged the show's accomplishments and thanked everyone involved.