On July 15, Jason Aldean was performing at the Xfinity Theatre in Hartford, Connecticut as part of his Highway Desperado tour. The concert was the second stop on a 41-city tour that was set to run until October 28. However, after just 20 minutes into the performance of the song 'Crazytown,' Aldean abruptly ran offstage, signaling that something was wrong. Fans speculated that the intense heat and humidity might have been the cause.

One fan who was at the concert tweeted about the extreme weather conditions, expressing concern for Aldean's well-being. The fan mentioned the discomfort of standing in the pit and imagined how challenging it must have been for the performer in jeans, boots, and a hat under the hot stage lights. Aldean never returned to the stage, and the show came to an abrupt end.

The next day, the Xfinity Theatre confirmed on Twitter that Jason Aldean had suffered a heat stroke during his performance. They assured fans that they were working on rescheduling the show for a later date and that Aldean was doing well after the incident. The extreme weather conditions in Hartford, with temperatures reaching 90°F and humidity as high as 80%, made it difficult for anyone to enjoy the concert, let alone perform.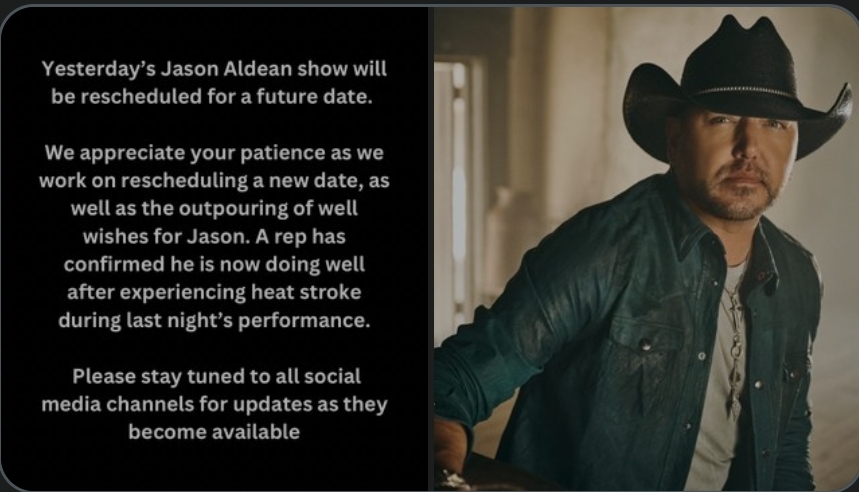 Video footage of the incident went viral, showing Aldean attempting to continue the performance despite his discomfort. However, he eventually rushed offstage to seek medical attention. The incident raised questions about the impact of the heat stroke on Aldean's future concerts. While his representatives were working on rescheduling the Hartford show, it remained uncertain if he would be able to perform his upcoming shows, including one in Saratoga Springs, New York.

Although there was a possibility that Aldean might cancel his next show to recover, he had a few days of rest scheduled before his performance at the Blossom Music Center in Ohio on July 20. The incident in Hartford was not the only challenge Aldean faced during the concert. Prior to his sudden departure, a fan threw a cowboy hat at him, narrowly missing him. Aldean responded by wagging his finger at the fan.

Despite the setback, Aldean's fans showed their support and wished him a speedy recovery. As the rescheduling plans were underway, everyone hoped that Aldean would be back on stage soon, continuing his tour and delivering memorable performances.