Jada Pinkett Smith has confirmed that her Facebook Watch show, Red Table Talk, has been canceled. The decision comes after Facebook parent company Meta decided to move away from original programming. Pinkett Smith expressed her gratitude for the partnership with Facebook and hopes to find a new home for the show soon.
Red Table Talk was known for hosting profound conversations, including Pinkett Smith's discussion of her husband's altercation with Chris Rock, and Hayden Panettiere's discussion of abuse and loss. The show also addressed the cheating scandal involving Jordyn Woods and Tristan Thompson.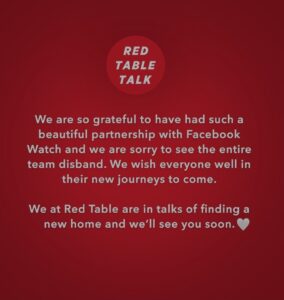 In one episode, Pinkett Smith used the platform to discuss her ongoing battle with alopecia and her husband's outburst at the Oscars. Smith defended her against a joke made by Chris Rock and proceeded to slap the comedian on live television. Pinkett Smith expressed her hope for reconciliation between the two men and addressed her and Will's 28-year marriage.
The episode also featured stories from people struggling with alopecia, including the tragic story of 12-year-old Rio Allred, who took her own life after being bullied for wearing a wig to school.
Despite the cancellation of Red Table Talk, Pinkett Smith remains hopeful that the show will find a new home soon.