Tony Bennett, the legendary singer who graced the world with his timeless music, lived a remarkable life that culminated in his passing at the age of 96 on July 21, 2023. Throughout his seven-decade career, he garnered millions of devoted fans worldwide. In a twist of fate not widely known, Bennett had been quietly battling Alzheimer's disease since 2016.
His final years were spent in his beloved New York City apartment, a space that served as his home, studio, and even the location for his last interview. While coping with his Alzheimer's diagnosis, it was Susan Benedetto, his wife, who shouldered the role of caregiver during his twilight years. Bennett, in his moments of clarity, would often question the doctor's prognosis, unable to fully comprehend the gravity of his condition.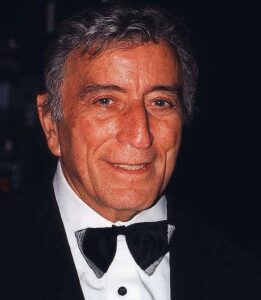 Physically, he felt well, and that was the extent of his understanding. Remarkably, Bennett's robust health allowed him to continue creating music despite the challenges posed by Alzheimer's. He recorded an album with Lady Gaga, displaying an unwaveringly cheerful attitude even when facing minor hiccups in the recording process, such as forgetting lyrics.
For the most part, his days in the later years were spent in the comfort of his beautiful apartment, perched on the fifteenth floor with breathtaking views of Central Park. The apartment boasted three bedrooms, a spacious kitchen where Bennett showcased his culinary skills, an elegantly furnished living and dining area, an executive office, and more. Sunlight poured in through the large windows, framing views of Central Park and the New York City skyline. One of the spare bedrooms had been transformed into a studio, adorned with Bennett's sketches and strewn with paintbrushes and paint cans. The artist in him found solace in painting, and he relished the serenity of a large easel positioned by a window overlooking Central Park.
His kitchen, adorned with buttery yellow walls and oak cupboards, was a frequent feature in his social media posts. Bennett's love for cooking was evident, as was his passion for sharing it with his audience. The living room was equally impressive, with white couches, panel wood floors, and a grand black piano at its center.
Bennett would often lose himself in hours of playing music on that piano. Bennett, in an admirable display of resilience, chose to keep his Alzheimer's diagnosis a secret from his fans until 2018 when he was 92 years old. He handled the condition with remarkable grace, reminding the world that "Life is a gift – even with Alzheimer's."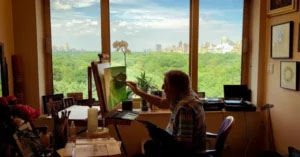 Throughout this challenging journey, Susan Benedetto, who first met Bennett when he was in his sixties and she was in her twenties, remained steadfast by his side. Her deep appreciation for his soulful voice led to their love story, which eventually saw them tying the knot after two decades. During the COVID-19 pandemic, she took on the role of primary caretaker for Bennett, opting not to hire an aide to minimize his exposure to the virus.
Her unwavering dedication and love were instrumental in ensuring his well-being. The passing of Tony Bennett was a profound loss for his legion of fans. His music will forever resonate in our hearts, and his life's story serves as a testament to the enduring power of love, artistry, and resilience in the face of adversity.