On September 13th, Alaska Rep. Mary Peltola, who was supposed to be celebrating her one-year anniversary in office, found herself mourning the tragic loss of her husband, Eugene "Buzzy" Peltola Jr. The devastating news was conveyed by her Chief of Staff, Anton McParland, who described Buzzy as a beloved figure known for his talents and infectious personality.
While the statement didn't provide specific details about his passing, the Federal Aviation Administration (FAA) later confirmed that Eugene Peltola Jr. had been flying the plane when it crashed shortly after takeoff. He was the sole occupant, and the crash occurred around 8:45 p.m. local time on September 12, approximately 64 miles north of St. Mary's, Alaska, in a mountainous region. He had been transporting a hunter along with hunting equipment.
Buzzy was celebrated as someone who excelled in numerous endeavors and possessed a delightful sense of humor. He had a passion for cooking and placed paramount importance on family, demonstrating his devotion to parents, children, siblings, extended family, friends, and, most of all, his adoration for Mary.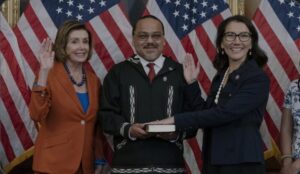 The news of Buzzy's untimely death prompted condolences from politicians on both sides of the aisle, including Republican Senator Lisa Murkowski and Republican Senator Dan Sullivan, who represent Alaska alongside Mary Peltola.
They expressed their profound sadness and offered heartfelt prayers to Mary and her family during this difficult time. Hale Boggs and Rep. Nicholas Begich's plane disappeared and was never found in 1972, and Senator Ted Stevens was tragically killed in a plane crash in 2010, marking previous instances of politicians meeting such unfortunate fates in Alaska.
Mary Peltola's grief and the outpouring of support from her colleagues underscore the deep impact of Buzzy's loss on her family, her constituents, and the political community in Alaska.