Actress Helen Mirren, known for her incredible looks and style, surprised everyone at the 2023 Cannes Film Festival. The 77-year-old actress arrived on the red carpet wearing a stunning custom blue gown by Del Core, featuring a plunging neckline and cinched waist. Her silver jewelry complemented the ensemble perfectly.
However, what truly caught everyone's attention was Mirren's brilliant blue hair, styled in an updo to showcase the blue-purple ombre effect. As an ambassador for L'Oréal Paris, she subtly promoted the brand by carrying a hand fan with the slogan "#WorthIt."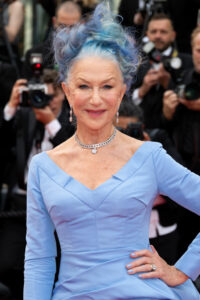 Mirren has always been admired for her fashion choices and her willingness to experiment, even at her age. In 2019, she sported red hair at the same film festival, sparking conversations once again. The actress enjoys keeping up with new trends and remains active on Instagram, where she has amassed millions of followers. She revealed in an interview that it was actor Vin Diesel and his team who introduced her to the social media platform several years ago, encouraging her to join.
Helen Mirren continues to surprise and inspire her fans with her timeless beauty and unique style. Her recent appearance at the Cannes Film Festival showcased her willingness to embrace change and keep things fresh. She truly is a treasure in the entertainment industry.