Celine Dion's battle with stiff person syndrome, a rare and incurable neurological disorder, has taken a toll on her health and forced her to cancel her world tour. Her sister Claudette shared an update, revealing that they haven't yet found effective medication but are collaborating with top researchers. Stiff person syndrome leads to uncontrollable muscle spasms, affecting just one in a million people.
Claudette emphasized the importance of rest and listening to one's body, as Celine's commitment to her performances may have contributed to her condition. Despite her challenges, Celine is dedicated to her recovery and rehabilitation, with hopes of returning to the stage eventually.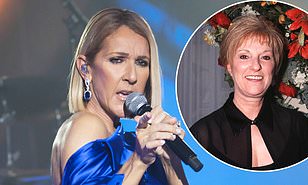 Celine's fans have been supportive, urging her to prioritize her health. She initially revealed her diagnosis in December, explaining how the disorder had impacted her daily life and ability to perform. The syndrome causes muscle spasms, affecting mobility and even the ability to speak, a significant setback for someone known for their powerful voice and stage presence.
Celine's determination shines through as she works with her medical team and engages in therapies to manage the condition's symptoms. Her health journey has prompted fans to express their unwavering love and support, emphasizing her well-being over her career.
Stiff person syndrome remains a challenge for Celine and her family, but their dedication to finding treatments and sharing updates sheds light on the importance of raising awareness about rare conditions and prioritizing one's health above all else. As Celine continues her battle, her fans eagerly await her return to the stage, understanding that her health comes first.