Ace the cat had a challenging start in life, finding himself homeless and alone on the streets as a kitten. Fortunately, he was rescued and adopted by a loving family, but an infection took away one of his eyes, giving him an unusual appearance. Due to his unique look, some children were afraid of him, so his owners installed a home security camera to keep an eye on him.
To their surprise, the camera captured a heartwarming sight. Every day, a young boy visited Ace, undeterred by his appearance. The boy would sit with Ace, petting and playing with him, forming a special bond. Ace's owner, Norma Maikovich, explained that the cat is often misunderstood by people he encounters and can sometimes seem scary, especially to children. However, this boy saw past Ace's appearance and connected with him on a deeper level.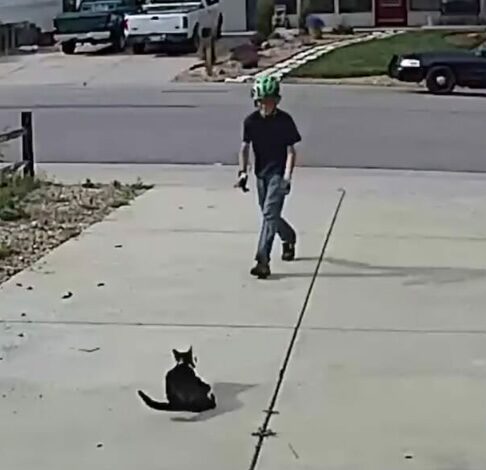 Norma was moved by the video footage, witnessing the love and familiarity between Ace and the boy. Ace displayed his gentle nature while playing with his friend, and the boy was clearly delighted to spend time with Ace. The bond they shared melted the hearts of Ace's owners, who were amazed by the connection.
After discovering the friendship between Ace and the boy, Norma welcomed the boy to visit Ace anytime. She acknowledged that a friend of Ace's is a friend of theirs, and they were thrilled to see how happy they made each other.
The story concludes with a touching video clip showcasing the adorable encounters between Ace and his young friend. The sight of these two companions playing and cuddling is truly heartwarming, highlighting the beauty of their friendship and the compassionate nature of both individuals involved.