Blake Shelton and Gwen Stefani celebrated their second wedding anniversary on July 3 by sharing throwback photos from their wedding day. Shelton expressed his love for Stefani in a heartfelt note, stating that every day with her has been the finest day ever.
He posted a picture of their wedding reception, showing him kissing his bride beside their custom-built wedding cake. The cake was a replica of the one served at Stefani's parents' wedding, featuring intricate piping. Stefani also reminisced about their special day by sharing a video montage of their favorite moments together, including time spent with her three children and significant milestones in their careers.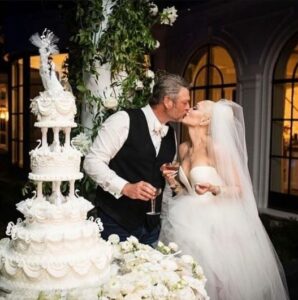 The couple first met in 2014 when they served as coaches on The Voice and began dating the following year after going through divorces. They publicly announced their engagement in October 2020 and tied the knot in a chapel on their Oklahoma property. The song "True Babe" is a love song inspired by their relationship.
As they celebrated their second anniversary, Shelton and Stefani expressed their love and gratitude for each other, reflecting on the memorable moments they have shared as a couple.